Bulk SMS Software for BlackBerry Mobile Phones
Bulk SMS Software for Blackberry Mobile Phones empowers you to send multiple numbers of text messages from computer or laptop device using blackberry mobile phones. Mobile text messaging program is designed and developed with latest technology to send multiple numbers of text messages simultaneously to individuals or list of contact numbers.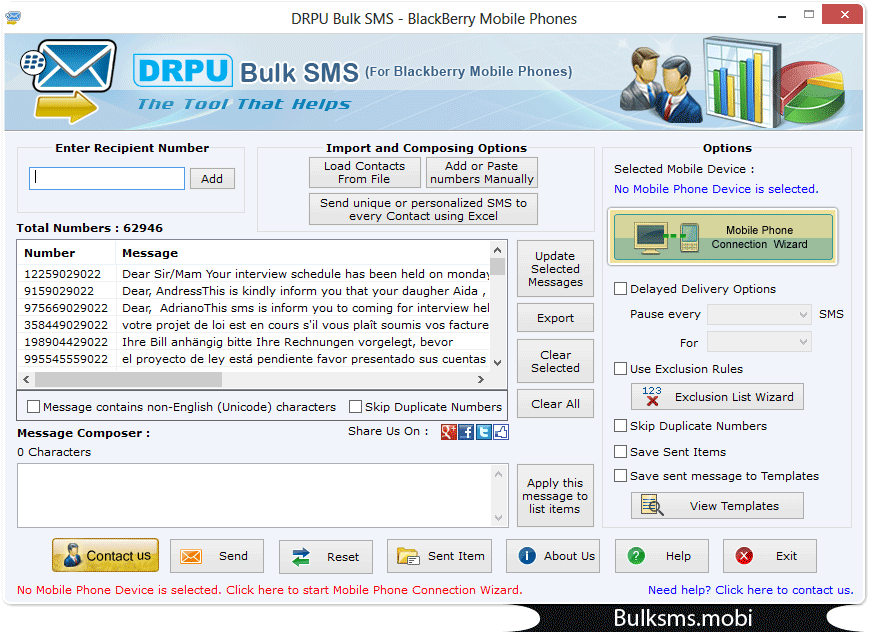 Software Features:
Blackberry bulk SMS Software sends multiple numbers of text messages in few easy steps.
BlackBerry mobile text messaging software provides delay delivery option to control the load of bulk SMS broadcasting.
BlackBerry bulk SMS sending program provides facility to skip duplicate number entries during the message sending procedure.
Blackberry Mobile messaging application provides advanced list Wizard option to maintain the list of contacts or groups which you need to include for sending bulk messages.
BlackBerry SMS Sender program provides option to load contact numbers from file or using excel sheet.
Blackberry SMS software provides option to save sent messages to template.
Software advantages:
Helps to maintain communication with the customers to ensure product popularity.
Provides new offers and product updates to your customers.
Expand your business across the world and attract new customers.
Useful for different commercial business organization:
» Real estate companies
» Retail industry
» Schools and colleges
» Telecom sector
» Banking industry
» Government department
» Healthcare industry
» Media and entertainment companies
» Hotel and resorts
» Airlines and railways
» Tour and travel
» Telecom companies
» IT industries