Mac Bulk SMS Software for USB Modems
Bulk SMS Software for 3g modems empowers you to send group text messages simultaneously from your MAC OS X installed machine to other mobiles phones using 3g modem. Macintosh SMS gateway program provides option to send standard messages and notifications over national or international mobile network.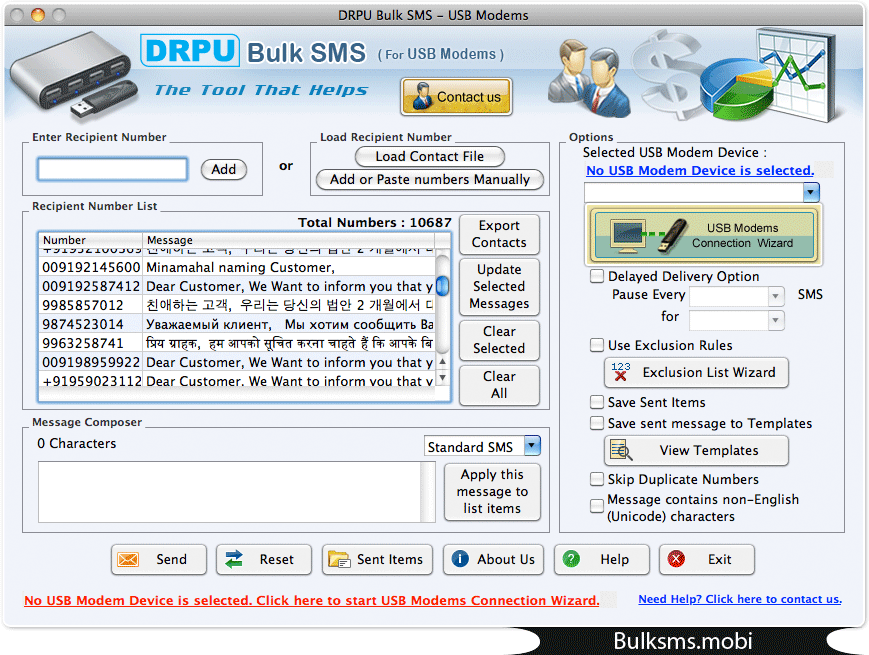 Software Working Features:
MAC bulk SMS software for USB modems instantly sends group text messages in different text over global mobile network.
Text messages sender program provides advanced delay delivery option to control load of bulk SMS which are send from your MAC computer using gsm modem.
Macintosh SMS gateway software successfully delivers unlimited text messages over global mobile network without requiring any internet connection.
SMS broadcasting programs has exclusion list wizard facility for maintaining list of contact numbers during text message sending procedure.
MAC bulk SMS software for USB modems successfully saved your sent text message detail to templates which can be easily viewed by user whenever requires.
Helpful to send
Business campaigns, Share market updates, News alerts, Stock market information, Greetings, Reminders, Notifications, Standard SMS, Product launching details and many more.
Software is Useful for
» Marketing agencies
» Wholesale and retail store
» Online business
» Human resource services
» Information technology companies
» Clubs and organizations
» Hotels and resorts
» Social and business networking groups
» Schools and colleges
» SEO companies
» MLM companies
» Other commercial sector.