Mac Bulk SMS Software for GSM phones


Mac bulk SMS software helps you to send unlimited text messages simultaneously from your MAC OS X installed machine to single or list of contact numbers using GSM mobile. Macintosh mobile marketing program delivers thousands of text messages to your customers, staff members and global mobile audiences without requiring internet connection.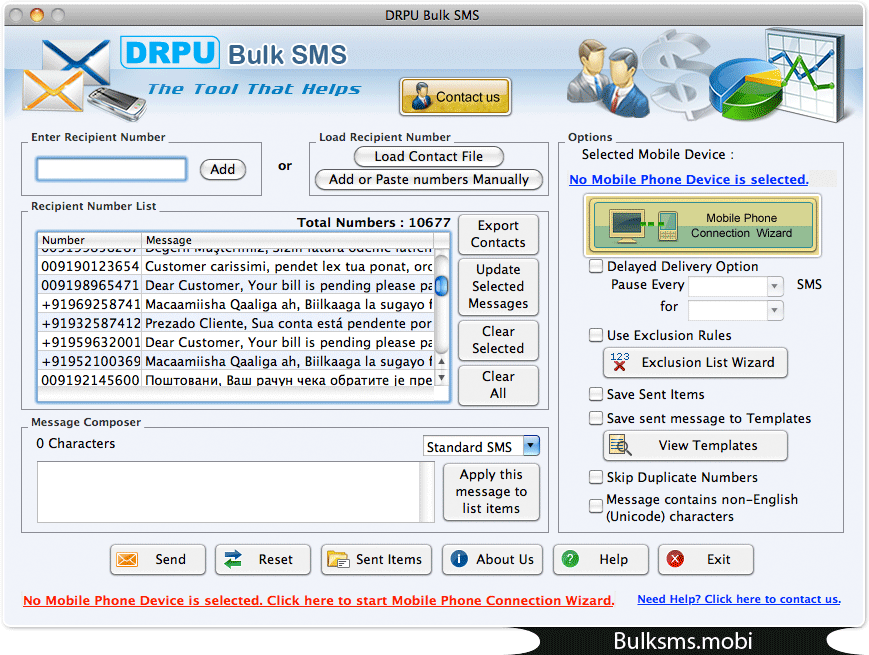 Software Features:
Provides exclusion list wizard facility to maintain list of contact numbers during SMS sending procedure.
Offers delay delivery option to control or customized load of bulk SMS over worldwide.
Provides option to skip duplicate contact numbers during bulk SMS sending process.
Key Features:
Mac bulk SMS software sends personalized SMS, greetings, share market updates, news alerts, business campaigns and other text SMS from your Mac machine to group of phone numbers using GSM mobiles.
PC to mobile messaging software supports Unicode characters to send group text SMS in different languages over global mobile network.
Group SMS program for MAC OS X provides option to send notifications and standard text messages to your friends, relatives and business partners over worldwide location.
Mac bulk SMS software successfully saves your sent text messages to templates for future references.
SMS gateway programs delivers unlimited text messages over national, international mobile networks without needing internet connection.